Clarins: The beauty of digital experience
Article - 28.09.23
Clarins: The beauty of digital experience
For many years, our Clarins teams around the world have gone out of their way to offer our customers a unique and increasingly personalized digital experience.
At Clarins, we are proud to offer our customers around the world a unique digital experience and personalized online services that respond to their needs.
In 2023, our U.S. teams were recognized for the excellence of their e-commerce website! Every year, the American magazine Newsweek rewards the best online stores by category. In the single-brand parapharmacy and cosmetics category, Clarins topped the ranking with a score of 8.56/10. Behind this award is the dedication of our digital and online teams and their ongoing efforts to offer the very best online customer experience. Some recent examples of their continuous innovation include a new translation tool for our Spanish- and Chinese-speaking guests, a new pop-up for product samples, and new developments to our Club Clarins loyalty program.
Enhancing customer experience through digital innovation
Our U.S. teams aren't alone in their quest for continuous improvement. All over the world, we are striving to make the experience of our online guests even more beautiful. As a part of this process, we have launched online consultations with beauty experts on many of our websites. Pioneers in this field, we offer a personalized virtual experience to address all questions related to skincare, make-up, our products, and more. This free service is available via live chat or video. During a one-to-one meeting, our experts attentively listen to a guest's needs, and provide fully customized solutions. Our virtual consultation experience has been celebrated by our customers: guests in Singapore, Japan, and Hong Kong gave a satisfaction score of 95/100, citing the excellent service and product recommendations of our virtual Beauty Coaches.
We have also developed a tool that enables customers to try our Clarins products without leaving home. Since 2020, it is possible to access our virtual try-on service on our e-commerce sites. Through the use of augmented reality, guests can test their favorite Clarins products. With just a few clicks, they can find the perfect make-up shade, the most flattering lipstick, or the mascara that matches their needs. To access this service, our customers can go to the product pages and click on the "Live Trial" icon. Then, by activating their computer's camera or uploading a picture of themselves, they can see how the product tested looks and choose the one that suits them best.
Beauty Daily: the 100% Clarins blog
In London, our teams have created an exciting and unique online platform: Beauty Daily. Designed as a blog, the website features advice from Clarins UK experts as well as professionals such as dermatologists, doctors, wellness specialists, and nutritionists. Readers can find answers related to all their skincare, make-up and wellness questions. With this platform, Clarins UK aims to connect with its customers by providing high-quality content that meets their needs.
Digital to support our CSR commitments
The digital experiences developed by Clarins also serve our CSR policy. Guided by a commitment to truth and transparency, we wanted to trace the journey of our products, from the field to the consumer,  and make this information accessible to everyone. Thanks to the Clarins T.R.U.S.T platform based on blockchain technology, customers can access the various stages of preparation and manufacture of their favorite skincare products. From know-how and geographical origin to harvesting methods and certifications, we want to provide guests a safe and reliable way to see how our actions align with our CSR commitments.
Digital experience and transparency are also at the heart of our Domaine Clarins (in Haute-Savoie, France). This conservation site, where more than thirty plant species are cultivated, harvested, and studied, has been accessible to l the curious since 2022 via just a few clicks. Thanks to the 360° virtual tour, online visitors can explore this 15-hectare location, almost smelling the extraordinary plants that are grown there.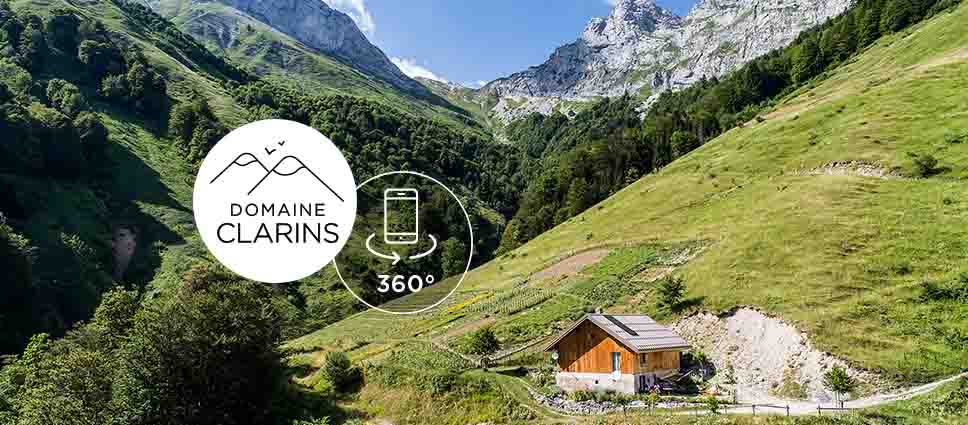 As our customers' needs evolve, Clarins teams around the world continue to imagine the digital experiences of tomorrow.