Article - 16.09.22
La Maison myBlend
A few days ago, the Maison myBlend opened its doors in the heart of Paris's Marais district. The Maison myBlend is a new space to share the ultimate beauty experience. It is a global skincare that combines holistic beauty and technology in a restorative environment.
A place for interaction and sharing
Through this unique venue spanning two floors and four main areas, myBlend invites you on a holistic beauty experience.
The Regeneration Room offers an exceptional setting for your beauty experience. Dr. Olivier Courtin wanted this room, which is entirely dedicated to beauty tech, in order to offer all women and men the chance to experience the sensations and efficacy of the myBlend "myLEDmask," free of charge. In this unique space, experts are on hand to answer any questions about the use of this innovative mask and how photobiomodulation acts on the signs of ageing. During a complimentary discovery session, sit back in our specially designed relaxation chair while listening to a soothing playlist and benefit from immediate radiance and well-being results. Each session's length is programmed based on phototype: 5m 35s for Type I, 11m 10s for Type 2, 13min 55s for Type 3.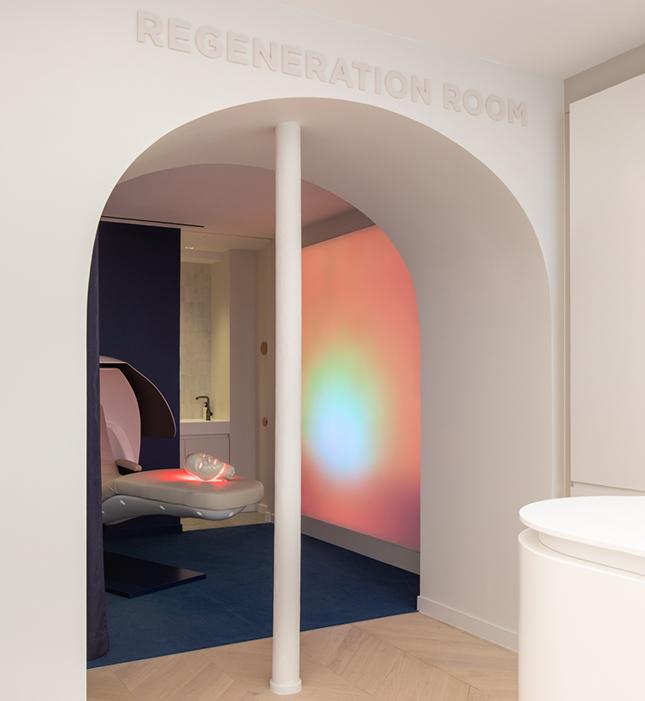 The Digital Studio is dedicated to interaction and creativity. Here you can meet with experts and brand ambassadors as well the founder, Dr. Olivier Courtin, to talk about the products, commitments and philosophy of myBlend. Workshops, both in-person or by video, are also offered. This space can even be transformed into a photography studio or a place to collaboratively create content.
The Retail Space is where you can receive your Skindiag. This essential component of the bespoke myBlend approach involves completing a lifestyle questionnaire and having pictures taken of your skin in order to receive personalized recommendations on the expert products that are most suited to your lifestyle and your skin's needs. Lastly, a texture bar lets you test, smell and feel the sensoriality of our products, understand their high concentration in key ingredients and fully discover their efficacy.
The Spa features three comfortable and spacious treatment salons designed to deliver the excellence of myBlend care protocols. Treatments lasting 30, 60 or 90 minutes are available for the face and body. Each one combines highly concentrated products, expert manual techniques and noninvasive high-tech tools, selected according to the needs and schedule of each client. For an interlude of ultimate well-being and efficacy, discover our signature treatment for the face, body and belly – the quintessence of the brand's know-how.
Come discover La Maison myBlend, 23 rue Debelleyme 75003 PARIS, Tuesday to Sunday from 11:00 am to 7:30 pm.
Tiffany Bouelle, an artist with a cause
French-Japanese painter Tiffany Bouelle, an artist with a cause, collaborates with myBlend through her artistic expressions. She created a giant mural for La Maison myBlend featuring the brand's signature colors. Connecting the Retail space and the Spa, the mural evokes the skin's emotions as seen through the artist's eyes and echoes the brand's signature ultramarine hue.
Ever since she was a young girl, art has been a part of her DNA. After studying applied arts at the Auguste Renoir then Duperré art schools in Paris, she experimented with fashion, drawing and painting until she found the mode of artistic expression that suited her best. In the privacy of her Parisian apartment, Tiffany welcomes women from all backgrounds. During these encounters, the women get to know and confide in each other.
Tiffany then uses synesthesia to connect these experiences with shapes and colors. She defines herself as an artist with a cause who addresses political issues through artistic creation. To celebrate her 30th birthday, she is currently preparing a collective exposition at the Musée des Arts et Métiers as well as initiating projects in Japan.