Article - 04.04.23
Plant-powered innovation
"Always moving towards more naturalness, effectiveness and sensoriality is our objective" Dr Olivier Courtin-Clarins
In March 2023, the Clarins Group unveiled Clarins Precious, an innovation that takes the Clarins brand into new beauty territory: the premium category.
As with every major launch, years of research go into developing the safest, most effective and sensorial formulas for our customers. Take a look behind the scenes of our Research & Development department.
Since 1954, Clarins' mission has been to meet women's expectations, anticipate their needs, draw inspiration from the best of nature, integrate new technologies and innovate sustainably.
A pioneer in plant research, Clarins Research Laboratories located in Pontoise seek to decode the genius of plants. Equipped with the best expertise—toxicologists, chemists, biochemists, agronomists, pharmacists, biologists, botanists and ethnobotanists, microbiologists, biophysicists and more. – the Laboratories are characterised by continuous innovation, with the aim of constantly improving existing formulas and technologies in the light of the latest scientific knowledge and women's needs.
2
research laboratories, one located in Pontoise (France), the other in Shanghai (China)
1
open-air Laboratory, Domaine Clarins, located in the Alps
100+
researchers worldwide
12
types of scientific and technical expertise
Beauty from plants 
With nature as a laboratory of ideas and bio-inspiration as their guide, Clarins researchers have always given priority to plant-based active ingredients without ever denying themselves the best of chemical synthesis when the active ingredient does not exist in nature. The plant-based raw materials are obtained from sustainable and perfectly traceable agriculture, more than 60% organic, cultivated locally as much as possible, always in sync with the rhythms of nature and part of a local distribution network. But this commitment also goes beyond the plant kingdom. The key challenge for the company is to respect the Earth, its biodiversity and the people who take care of it.
208
plants in the herbarium
62%
certified organic, 80% by 2025
+80%
active ingredients of natural origin
The genetic profile of each plant is studied by the Active Ingredient Research team to authenticate the plants by their DNA and guarantee the quality of all developed extracts. The R&D Laboratories, ISO 14001 and ISO 50001 certified, invest in high-performance equipment and cutting-edge technologies using eco-responsible methods to preserve the intrinsic qualities of plants and minimise the impact of their processing on the environment.
Each part of the plant (stems, leaves, flowers, seeds, fruits, etc.) is analysed in order to precisely identify the active ingredient molecules. The laboratories therefore have a one-of-a-kind bank of plant active ingredient molecules.
400+ plants studied per year
30 to 50 trials required to develop a new active ingredient
6 to 12 months to develop an extract
Active ingredient case study: In 2022, Clarins Research succeeded in finding a plant-based alternative to retinol: organic Harungana extract, the key ingredient in the Multi-Intensive line.
The art of formulation
Always avant-garde, the prospective formulation laboratory is committed to developing natural formulas with active textures containing the right number of ingredients in the optimum concentration. At the same time, every effort is made to limit the energy consumption needed for creating formulas and its impact on the environment.
Up to 300 tests before finding the right formula
11 months minimum to develop a formula
Product case study: In 2022 Beauty Flash Balm with 96% ingredients of natural origin benefits from the latest innovations of the prospective formulation laboratory for an even fresher, lighter and smoother touch, boosted hydration and radiance.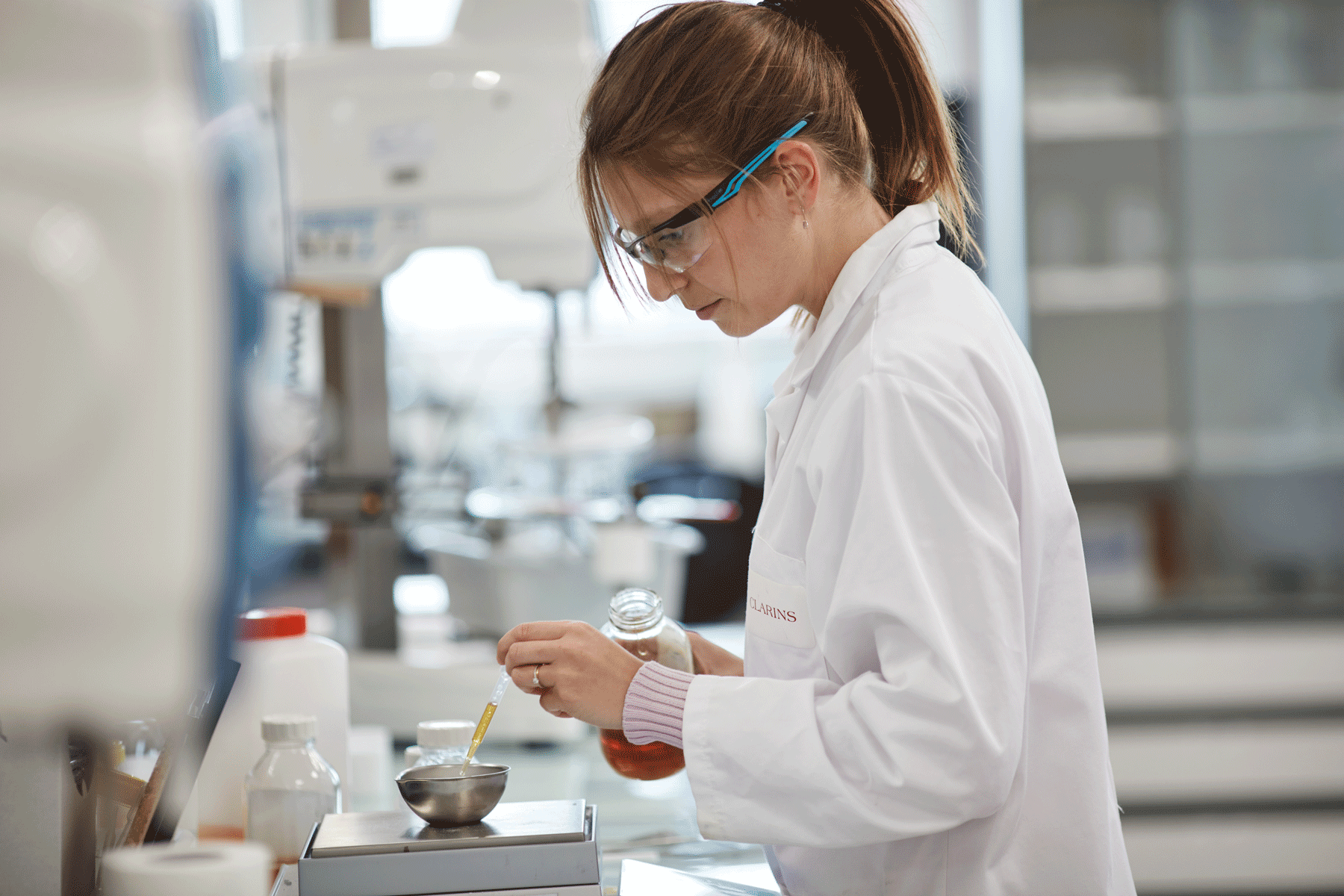 Clarins, listening to women more than ever
Always in tune with women, attentive to their lifestyles as well as the different periods of their lives, Clarins Research Laboratories have genuine expertise in skin biology, its physiology and needs.
More than 10,000 volunteers participate in clinical studies and consumer tests each year
More than 600 studies per year are carried out on products under development
To best meet women's needs, Clarins has an evaluation laboratory in Shanghai (in vitro and in vivo) dedicated to Asian skin and an expert sensory panel
Technology made for women
Always avant-garde, Clarins Research Laboratories are interested in the emotional benefits of products. They are developing new technologies to measure emotions, both conscious and unconscious, using EEG and electrodermal measurements, among others.
Product case study: The impact of the Eau Extraordinaire fragrances, launched in 2022, on emotional feelings and especially inner strength was demonstrated for the first time.
They are also launching their first studies into connected beauty, with a smartphone application that connects measurement tools, which is made available to volunteers to analyse their skin quality in real time.
Finally, beauty-tech, the future of beauty, is represented by myBlend, the group's second brand, reinvented in 2022. Research is now based on state-of-the-art non-invasive technologies—LED masks, radio frequencies—to offer exclusive, high-tech beauty experiences.