Clarins launches its Lip Oil Factory
Article - 22.07.22
Clarins launches its Lip Oil Factory
Our Clarins brand is launching a new customization service in France: an oil bar where customers can create their own bespoke shade of Lip Comfort Oil.
As pioneers in skincare and plant-based oils, we believe in the power of plants: they inspire our research and underpin the effectiveness of the Lip Comfort Oil developed by Clarins.
And because we like to go the extra mile, Clarins now offers customers the opportunity to design their own bespoke Lip Comfort Oil, exclusively at our Maris shop (Paris 4) or at www.clarins.com. This all-new personalization experience is based on a surprising machine: the Clarins oil bar, which creates subtle, utterly unique shades for each user. This innovation securely anchors Clarins in its commitment to the art of personalized services.
The personalization experience
When using the machine, you first explore all of the shades offered, then refine your choice from among several sub-shades. If you like the color, production begins: the tube is filled with your unique blend of shades, a precious elixir. When it's finished, you slip your bespoke Lip Comfort Oil into its equally exclusive case.
Truly unique: a multitude of possibilities for your Lip Comfort Oil
In all, seven pigments have been included to provide the largest possible palette of shades. To create your personalized color, you'll chose a unique ration of at least two of these pigments. The concept is underpinned by monochromatic principles. There are 64 possible combinations, each carefully selected for optimal results. All of the shades created guarantee uncompromising quality for a look that it natural but with a glossy finish dotted with flecks of light. Clarins leaves nothing to chance when it sets out to showcase your lips and surprise you.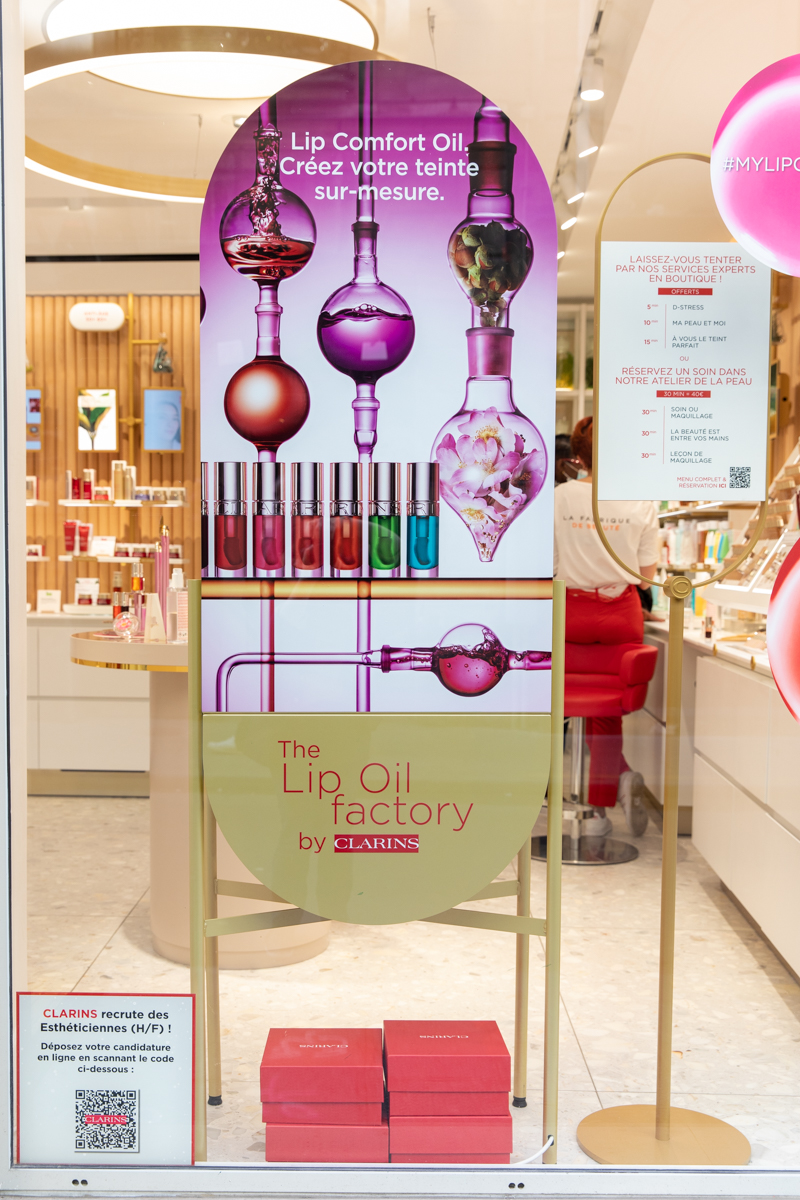 Clarins Lip Comfort Oil: a savvy combination of shine, nutrition, comfort and naturalness
We were the first brand to develop and market lip oils. Their formula reflects 65 years of Clarins expertise in the field. This unique savoir-faire and our pursuit of continuous innovation ensure that you are getting the best there is: a perfect combination of make-up and skincare.  The Lip Comfort Oil formula is enriched with 93% ingredients of natural origin including a trio of ultra-nourishing oils. Rosehip oil, which helps to strengthen the skin's natural barrier to protect it from external aggressions, is paired with organic jojoba oil and hazelnut oil. The Lip Oil also contains 98% base skincare formula, which provides nutrition, repair and hydration throughout the day, even under a mask! The lips are visibly more supple, softer and smoother both immediately and long term.