Clarins' double innovation: ever more ambitious scientific research
Article - 10.07.23
Clarins' double innovation: ever more ambitious scientific research
"Continuous innovation is a proactive approach that enables us to achieve the impossible. Thanks to this pioneering, sustainable and lasting strategy, we continue to improve tried-and-tested formulas and are opening up new possibilities for cosmetics that are ever more effective, pleasurable, natural and beautiful." Dr Olivier Courtin-Clarins
In 2023, Clarins unveils Double Serum Light Texture, a pioneering dual formula based on the skin's water-oil composition, combining some of the most powerful plant-based active ingredients. This complete intensive rejuvenating treatment has been winning over customers for more than 35 years, thanks to its anti-aging power and comprehensive action targeting the skin's 5 vital functions.
Clarins' credo since 1954 has been to go ever further, to understand and anticipate women's needs, decode the skin's mechanisms, discover new, ever more effective active ingredients and explore new territories.
As pioneers in responsible beauty and firm believers in the efficacy of natural and eco-sourced active ingredients, our research laboratories stand out for their ongoing innovation, with the aim of improving upon what already exists by applying the latest scientific knowledge to meet the needs of both women and men.
Research laboratories are pushing the limits of scientific innovation 
Constant innovation means we can go beyond simply creating new products to actually inventing things that are needed for beauty. This continuous process involves continually searching for new ingredients, technologies and formulations as well as giving special attention to application methods. Adapting, and sometimes even reinventing, existing formulas allows us to respond ever more effectively to customers' concerns, to explore new areas, whether for the eyes, lips or neck, and to offer new galenic formulations—Double Serum, Aromatherapy, Lip Oils etc.—and new products, such as treatment fragrances and self-tanning drops. As soon as a breakthrough is identified, the Research Laboratories do not hesitate to improve their formulas, even if they are already number 1, and to enrich them with the latest scientific, technological or plant-based innovations for even greater effectiveness, pleasure, sensoriality and naturalness.
Double serum, the most iconic of Clarins skincare products, continually improved since its creation in 1985
Double serum embodies the scientific boldness of Clarins Research: 2 serums in 1 to address all the visible signs of aging. Its pioneering dual formula, a biomimetic serum adapted to the composition of the skin's hydrolipidic film, employs some of the most powerful planet-based active ingredients thanks to a combination of formulatory and technological prowess. Over 35 years, this intensive global youth treatment has become a universal serum for all ages and all skin types, women and men alike. The eighth generation of this iconic serum comes in a new, innovative container that allows it to be applied as required. It contains turmeric extract, rich in turmerone that promotes cellular communication to activate the skin's 5 vital functions—hydration, nutrition, oxygenation, regeneration and protection. With its 21 plant extracts, this is the most comprehensive anti-aging treatment.
Directly inspired by this iconic serum, Clarins Research breaks new ground with the launch in 2022 of Double Eye Serum, which targets the 5 key vital functions for youthful-looking eyes.
1
Double Serum is sold every 5 seconds across the world*
N°1
in anti-aging serums worldwide**
The latest addition, Double Serum Light Texture
Clarins has always listened to its customers, and in 2023 launched Double Serum Light Texture designed specifically for hot, humid climates and combination to oily skin. It contains all the expertise and power of Double Serum, thanks to the same scientific innovation, a dual formula made up of the same 21 plant extracts with proven anti-ageing efficacy, and the same packaging, but in a lighter texture. The Laboratories have succeeded in developing a new lipid phase, which is more subtle but just as effective.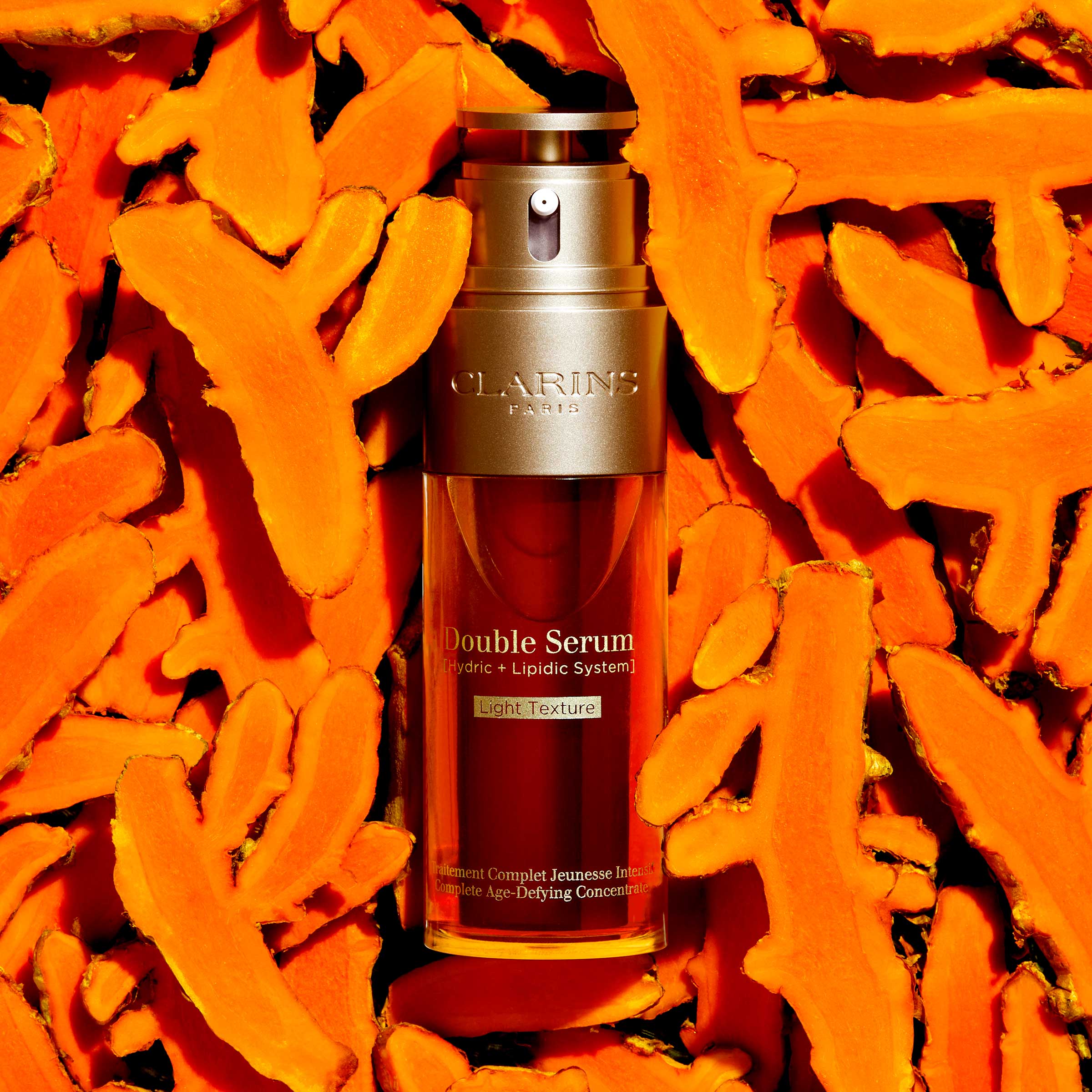 A closer look at the Double Serum Light texture formulation
Double Serum Light Texture was launched after 2 years of research, 23 texture agents tested and over 250 formulation trials, with a new lipid phase 70% different to Double Serum. It combines a new trio of ultra-light emollients chosen for their volatility: "evanescent" oils that draw the active ingredients onto the skin, then disappear, leaving an immediate "bare skin" finish with no residue. This allows for perfect diffusion of active ingredients that are non-greasy on the skin.
Clarins has made bold creativity its signature with pioneering innovations, constantly reinvented formulas, and best‑sellers that stand the test of time.
*(Clarins internal data and sales—world, double serum range, year 2021)
**(In the Clarins catalogue—Clarins internal data and sales—world, double serum range, year 2021)