A nourishing new glow: Clarins Tinted Oleo-Serum 
Article - 05.10.23
A nourishing new glow: Clarins Tinted Oleo-Serum 
Not just a skin tint: the Clarins Tinted Oleo-Serum! Our Clarins Laboratories are thrilled to launch our first ever nourishing tinted skin care serum for the complexion, the latest addition to our "make-up made for skin" collection.
Harnessing the nourishing power of plant oils
In 1966, when researchers from the Clarins Laboratories created the first ever pure plant extract oils, they were true pioneers, setting the foundation for more than half a century of plant oil innovation to come. Our R&D teams have continued to push our natural skin care expertise further, now daring to bring plant oils to a category believed to have "seen it all": make-up for the complexion. 
As is the case with every Clarins "make-up made for skin" launch, our Tinted Oleo-Serum represents an exciting innovation. Tinted serums have gained popularity as hybrid creations that combine the benefits of a serum with those of a lightweight tinted foundation. Our version brings customers a healthy glow and deep nourishment, thanks to an effective formula powered by plant oils.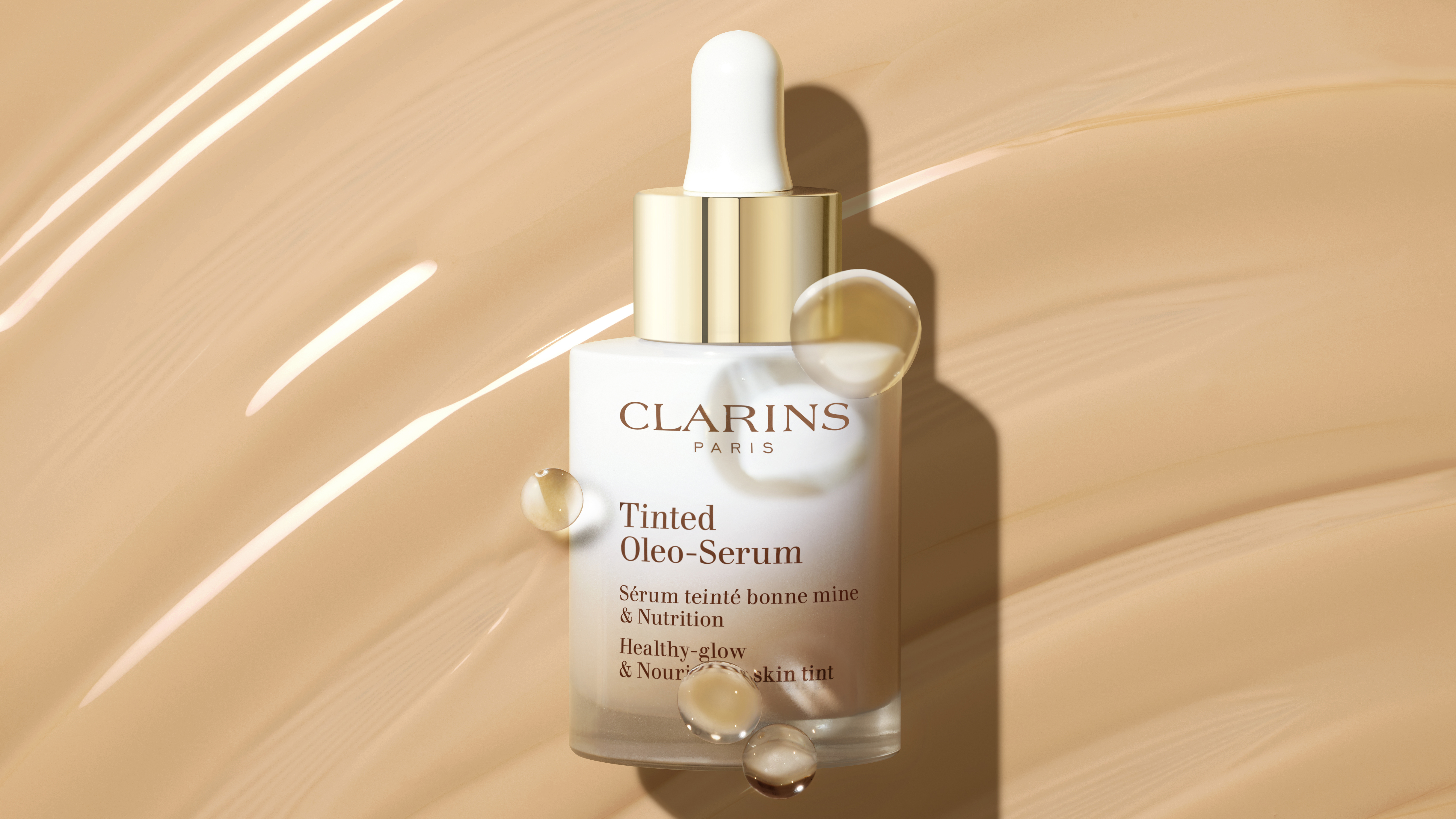 The innovation at its core is the all-new [TRI-OLEO COMPLEX] from Clarins Laboratories. This complex is composed of complementary plant oils known for their powerful properties and naturally-derived ​​ingredients that offer protective benefits. The latest fruit of our R&D efforts, it delivers a triple skin care action:
Hazelnut oil,

rich in omega 9 and 6, and

organic jojoba oil

, prized for its non-oily texture, work together to

nourish skin

;

 

Vegetable squalane

, which, having been derived from a lipid found in the hydrolipidic film, has perfect affinity with the skin,

reinforces the hydrolipidic film

; and

 

Ceramides

, natural components of the skin,

strengthen the skin's barrier function

, which can deteriorate with age and external climatic conditions.
57
years of plant oil expertise
98%
ingredients of natural origin
16
plant oils for deep nourishment
More than just make-up: the Clarins Tinted Oleo-Serum experience
With the Clarins Tinted Oleo-Serum, we see the Clarins approach to product development in action. How can we innovate to make this formula as natural and as effective as possible? And how can we consider sensoriality and sustainability together to make the customer experience all the more beautiful?  
Our R&D experts found the answer by uniting unique mineral pigments and dry plant oils, resulting in an 80% skin care formula with 98% ingredients of natural origin. Clarins Tinted Oleo-Serum was made with everyone in mind, as it's suitable for all skin types, even the driest, and is adaptable to many skin tones, with 11 shades available to make matching a breeze. 

As always, we also worked to ensure that the product found inside each bottle is more than just make-up: it's an experience. The formula's innovative [TRI-OLEO COMPLEX] supports its satiny feel, as the nourishing dry plant oils allow for a super-light, barely-there texture. This comfortable and pleasurable sensory experience continues thanks to the formula's subtle, fresh, and floral scent, which invites customers to turn each application into a moment of well-being. The Clarins Tinted Oleo-Serum can be applied to the complexion however one prefers to, whether that's using a multi-use brush, a small and dampened sponge, or the tips of their fingers. No matter the technique, the dropper delivers just the amount needed, ensuring that no product is wasted during application. 
From its application all the way back to its formulation, our clients can count on a product that aligns with our long-standing commitments to the planet: protecting biodiversity, supporting fair trade, and favoring the responsible sourcing of ingredients. At our Clarins Laboratories, we're also applying our continuous innovation approach to product packaging to keep our environmental impact as low as possible. Each Clarins Tinted Oleo-Serum comes in a 100% recyclable box made of cardboard sourced from sustainably-managed forests. And when empty, customers can separate the dropper and the 40% recycled glass bottle for easy recycling at home or at our boutiques. 
Bravo to everyone who contributed to our latest Clarins "make-up made for skin" creation!